Drilling Fluids Dryer Shaker
Drilling fluids dryer shaker is the use of special two vibration motor to do the excitation source, so that the material on the screen surface, while straight forward. Through the sieve screen is relatively low, through the continuous nozzle to skip the completion of the classification of materials, is widely used in the drilling industry.
All drilling operations require drilling fluids in some form. The main function of a shale shaker is to separate the drilling solid from a circulatory system. A shale shaker is essentially an equipment to filter the drilling waste obtained during the drilling operation.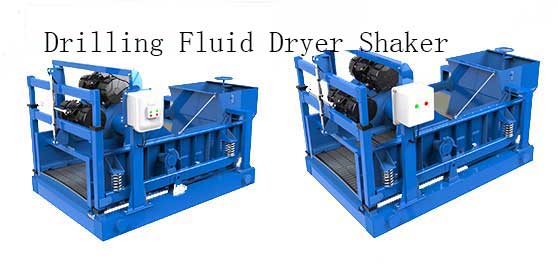 As the foremost part of solid control system, the efficiency of a shale shaker determines the performance of rest of the equipments. The more cuttings they remove from the circulation, the active system will receive more fluid. To achieve this however, the solids captured in the shaker screen needs to be constantly conveyed as to make room for more solid waste for filtering process. The drilling fluid will pass through the screen and be caught in a mud tank.
This filtering through the shaker screen is done with the help of vibration force that allows the fluid to pass through the screen mesh more efficiently and leaves the solids to be discharged further.
While a number of factors will determine the performance and quality of screening process, including the external factors such as temperature and viscosity of the drilling waste, the size of the cuttings, etc.
The linear motion shale shaker is a widely popular type of shale shaker since its introduction in early 1980s. And with latest developments in shaker screen design the process filtering the drilling fluid from drilling waste and removing the drilling solids has become far more feasible than it was originally there in earlier models of shale shakers .
The main function of the drilling fluids dryer shaker is to increase the flow of drilling fluid through shaker screen into the mud tank and discharge the drilling cuttings or drilling solid for further disposal. By eliminating the drilling fluids in dried out condition they are easier to be disposed as per environmental requirement and leave a less harmful impact on environment if there is less quantity of harmful chemicals in form of drilling fluid is present on them before disposal.