An efficient Micro Tunneling Treatment system is the basis for the successful use of slurry-supported tunnel boring machines(TBM). KOSUN Slurry Treatment system is popular for project of AVN Machines , Mix shields  or Shaft Sinking Machines . KOSUN Micro Tunneling Treatment system utilize shale shakers, desander desilter, as well as decanter centrifuges to processes separate and remove the excavated solids from the bentonite suspension. The cleaned fluid is then transferred back to the slurry circulation.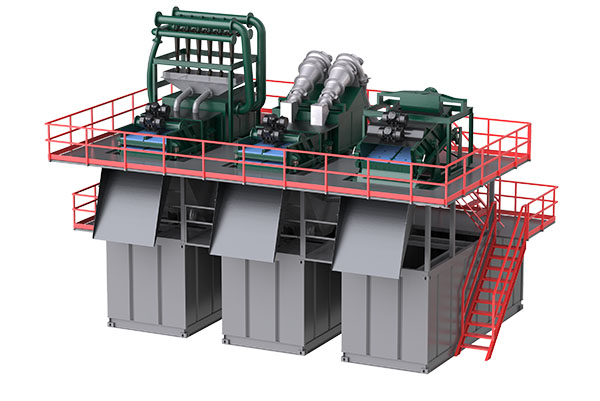 KOSUN Slurry Treatment system, Deanding Plant, Recycling Plant can be used in the field as follows:Tunneling, Micro-tunneling, Pipe-jacking Construction, Bored Piles Construction, Horizontal Directional Drilling, Diaphragm Wall Constructionand so on.
Features of KOSUN Micro Tunneling Treatment system:
(1) Simple and useful treatment process, as well as convenient installation, operation and maintenance;
(2) Modular and integrated design, transportation and installation subject to standard container size, foldable operating platform, compact structure, small footprint and flexible field use;
(3) Adjustable G-force of shale shaker, screen panel angle and mesh size, strong overall system adaptability and easier treatment of materials from various formations;
(4) Meet separation requirements on various materials and customize process as per the cut point of D 50 ; meet the requirements on different handling capacities, 100~3000m³/h;
(5) Meet various power specifications as per construction needs, and even generator set can be used for operation;
(6) The whole system is skid-mounted integrated system and can be also changed into vehicle-mounted mobile treatment units.
KOSUN is a professional manufacturer which design, develop, and manufacture  Slurry Treatment system, Desanding Plant, Recycling Plant and Slurry Treatment Equipment and System. Our products are environmentally friendly high-tech products which is used for the separation of the solid particles from the slurry liquid and the recycling of the clean fluids. KOSUN Slurry Treatment System has demonstrated its high-performance capalilities at many job sites worldwide including the applications of tunneling, micro-tunneling, pipe-jacking, bored piles construction, piling construction and diaphragm wall construction, etc. (Editor:Kosun Lily Wang)
Tag: Micro Tunneling Treatment system
Kosun- China Solids Control Leader&Drilling Waste Management Expert
Email: sales2@adkosun.com
Wechat:+86 18792396268
Contact person: Lily Wang
Online consulting:
http://www.kosun.com
http://www.kosuneco.com