Disassembly of the Vibrator of Shale Shaker :
Remove motor and drive pulley guard.
Remove the counterweight guard from both ends of the vibrator shaft.
Loosen the four motor support bolts located under the motor, loosen the V-belts and remove them.
Remove the V-belt sheave , by first loosening its taper lock hub.
Remove the counterweights , by removing the clamp screws and reusing the screw to open the slots in the counterweights, by tightening the screws into the tapped holes.
Remove the collars and the retainers with the Spiro lox rings  in their grooves. Remove cartridge cap screws.
Remove retaining ring from the drive side only. By striking on one end of the shaft with a lead hammer or a hammer and a block of hardwood, it is possible to start to drive out the cartridge  on the other side.
Then it should be easy to pry either or both cartridges loose from their bores in the housing ends. If difficulty is experienced a cartridge can be bumped from the inside by striking the shaft again at the other end. When one cartridge is removed the shaft can be slipped from the housing.
The bearing remaining in the other cartridge should be removed by using 3 long 3/8" NC cap screws and pushing the bearing out. Before inserting the cap screws, the setscrews must be removed.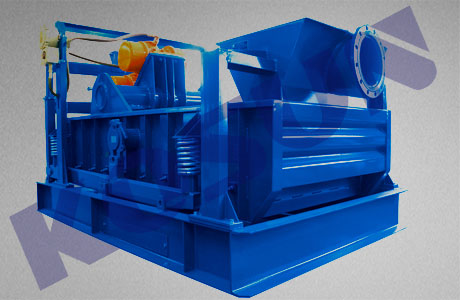 KOSUN patented shale shakers is the equipment with welded structure. Vibration motor & screen plate base are installed into screen basket with special parts. Screen basket is fixed on the adjustment beam. At each of the four vertexes of the screen basket put a vibration damping spring, which can prevent the adjoining parts and devices from being affected by the vibration. There are several shale shaker screen panels on screen basket, and they are fixed and adjusted by snap-on screw bolts and hooking tensioners so that the combined effect of horizontal and vertical supporting bars can provide enough strength for screens basket. And the panels are in an arched shape, thus making the panels more easily tensioned and more intimately connected with the frames, extending their service life as well as increasing the processing efficiency of particles. (Editor:Kosun Lily.Wang)
Kosun- China Solids Control Leader&Drilling Waste Management Expert
Tel.: +86 29 87304914
Email: sales2@adkosun.com
Contact person: Lily Wang
Online consulting: