Based on a combination of innovative design and highly advanced technology, KOSUN shale shakers allow high throughput capacities to be achieved in a compact machine design. These features facilitate the layout and design of the complete shale shaker for mud system. Shaker dimensions can be significantly reduced, ensuring low investment costs and saving space for other oil tools, especially for offshore drilling plant.
KOSUN S™ series Shale Shakers family consist of linear motion (LS) shale shakers and Balanced Elliptical Motion (ES) Shale Shakers.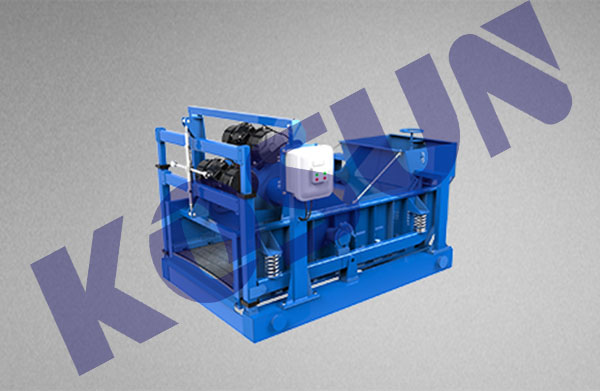 KOSUN  LS Shale Shakers  are  ideal  for high-capacity processing and the compact and easy-to-service design makes them a perfect choice for fast conveyance and heavy loading in tough drilling conditions. When drilling top-hole sections  or  while  heavy-volume  solids  are encountered, in these intervals, shakers are required to generate high G-forces to effectively move high-capacity drilled solids across the screens.
KOSUN  ES Shale Shakers are the best choice for max retention time and frequency for highly need of dryer drilled cuttings in light-loading drilling conditions. The unique balanced elliptical basket and  easy-to-service  design  makes  them  a wonderful choice for reducing solids control operation  cost.  When  faced  with  gentle light-loading drilling fluids, the ES shakers are required to reduce G-forces and maintain longer screen residence time, this results in drier solids,better drilling fluid recovery, longer screen life and reduced operating costs.
Advantages of  LS Shale Shakers and ES Shale Shakers:
-High and constant capacity
-Low space requirement
-High machine availability
-Long lifetime
-Reduce NPT(non-productive time)
-Easy replacement of wear and spare parts through
-Hydraulic opening device
-Broad range of applications
-High reduction ratio
-Lower drilling fluids cost
KOSUN shale shakers LS series and ES series are mostly used for the primary, scalping, fine separating and drying stage of soft to medium-hard drilled solids in various drilling fluids, for both oil-based and water based.The KOSUN shale shakers LS series and ES series have a wide field of use as they can easily be matched to changes in production through the proper selection of OPERATION MODE. (Editor:Kosun Lily.Wang)
Kosun- China Solids Control Leader&Drilling Waste Mangemnet Expert
Tel.: +86 29 87304914/86-13891934239
Email:lily.wang@adkosun.com
Contact person: Lily Wang
Company Video:https://www.youtube.com/c/KosunSolidControl
Online consulting: